1-
The Lululemon "Define" jacket
I'll be honest - I don't get the Lululemon hype. I understand that their clothes are of higher quality, but I know of several brands that I believe are totally comparable for half of the price. However, this jacket is killer. Chris bought it for me as a birthday gift, and I'm in love. The seams perfectly shape the body, and it is just beyond flattering. The second I put the jacket on all of my friends reacted with - "Damn, you look good in that jacket." I can't speak to the wear of the jacket with washes as it is brand new, but just know that it is a stunning jacket on the body.
2 -
Tone It Up daily workouts
My workout routine ebbs and flows - sometimes I'm committed and other times I just can't get myself to do it. To remedy this cycle, I signed up for a Spartan Sprint. My friends have been doing these events as a way to stay in shape and keep in touch, but I have sat each one out because I am not in good enough shape. Anyways, long story short - the Tone It Up daily workout is a great place to start when building my daily workout. The website has a page which shows 5 daily moves (and it's free!) targeting different muscle groups each day. It gives me a place to start when I'm standing in my apartment gym and have no idea what to do.
3 - Amazon Prime day
I bought all of the things! Some of my favorite purchases were my
Kindle Paperwhite
,
Harmony Hub
, and
Adventure collection book set
.
My little technology hub
I've been anti Kindle for a while, but I have to say - I was wrong. Having a Kindle has made reading an easier activity. I've only owned this for 3 days, but I've already finished 2 books just via the convenience of having several options at my fingertips.
The Harmony Hub is a really cool device that Chris suggested we purchase. It makes our Google home WAY more functional, by allowing us to connect it with our lighting, television, and sound bar. It allows you to create awesome shortcuts that otherwise would require several verbal cues on the Google home. For example, now we can say "Hey Google, turn on Project Runway" and our Roku, sound bar, and television turn on AND THEN it auto selects Hulu and the episode of Project Runway that we are watching. My personal favorite shortcut we've created is "Hey Google, it's party time" and our favorite playlist turns on along with fun lighting from the Phillips Hue bulbs.
Lastly, we got a great deal on this beautiful set of books. It matches our apartment decor beautifully and would be a great gift for any book loving child or adult.
4 - Dear White People on Netflix
I think this show is a must watch for everyone. It has great messaging without beating you over the head with it. The show revolves around a group of black students on a primarily white Ivy League campus. Each episode focuses on a particular character and delves into the different complexities of being a black student. It is a quick paced show as each episode only runs a half hour long. I will say, the first 3 or so episodes are slow. If you're unsure about this - please give it a shot. It's entertaining, beautifully shot, and one way to start getting yourself "woke."
5 - Loreal Colorista
Guys. I did it. I've wanted pink hair for ages, so I finally did something about it. I picked up the super temporary Colorista dye from Loreal and it worked great! I love it so much that I may try another color and then bite the bullet on a professional job. Why not have fun colored hair if you want it? This color was made for light blonde hair, and my hair is dark blonde bordering brunette, so the color isn't exactly as vibrant as I want it to be. However, that isn't to be unexpected because my hair is clearly darker than the box suggests. What color should I try next - mermaid teal?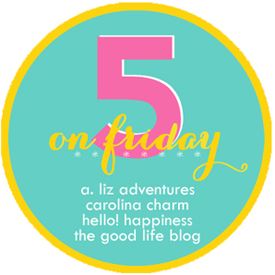 What are your favorite things at the moment? It can be a feeling, an event, a food, a product, or anything that strikes your fancy!